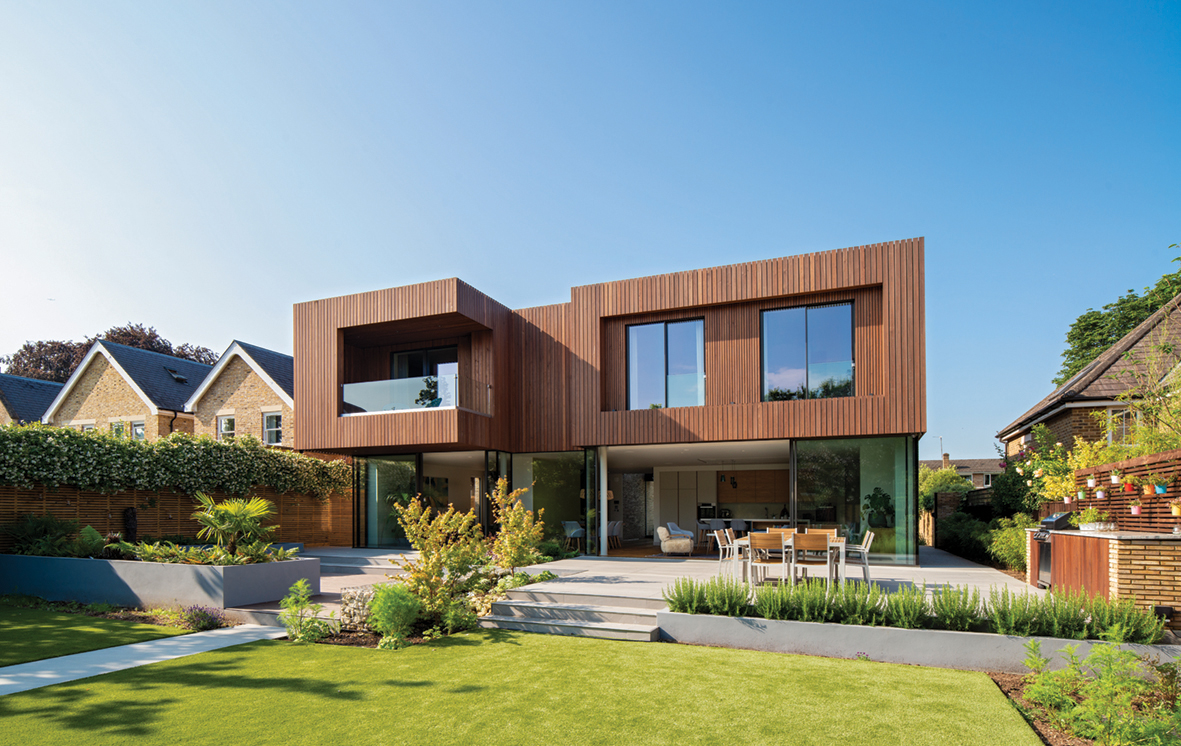 SLIDING DOORS CREATE A FACADE OF GLASS
ODC slimline sliding systems perfect for contemporary home
On a quiet leafy street, just a short stroll from the River Thames and Hampton Court Palace, is a light, open plan contemporary home on a wide and generous plot, once occupied by a dated bungalow. A soaring double height glazed entrance is a taste of things to come – with a facade of glass spanning the rear ground floor, this new build enjoys long garden vistas from living areas and first floor bedrooms. Steps lead from an expansive patio, past raised beds to a garden room.
Flush SL800 sliding doors with fixed glass corner panels maximise light for the north-facing interior. A fixed window between the two sliding systems maintains a continuous glass wall the width of the entire house, from living room to dining and kitchen areas. Wide panels have been carefully installed to provide exceptionally discreet, minimal glazing to complement this home's elegant design and muted colour palette.
On the first floor, slimline sliding ODC SL320 doors have been installed in conjunction with glass balustrades to provide uninterrupted tree top views for all bedrooms. It's a glazing combination that works very well for homes enjoying fantastic outlooks, in this case river meadows and heritage parkland beyond.
For another example of successful first floor sliding doors and balustrading, see this Dorset coastal new build project.
You might think installing systems in new builds is quite straightforward, but a final survey by one of the ODC technical team is essential before the windows leave our factory. Floor levels must be absolutely spot-on for these large flush sliding doors, and in this case, some small adjustments were needed before installation could begin.
On a busy site with other contractors at work, our fitters must establish a minimum of three metres clear working space around each opening. Scaffolding sometimes needs to be adjusted ahead of time to allow access, the ground must be levelled and any trenches covered over. And, of course, they need a clear route from kerb side to the working area so they can transport the huge panes of glass safely. So while a project like this doesn't need traffic-stopping cranes and technical high level manoeuvres, (unlike this project!) there's still a lot of specialist preparation required before windows can be fitted.
To understand more about our specialist installation and delivery, read: 'ODC Delivery and Installation: the sky's the limit' 
Project Type:
NEW BUILD
Systems:
ODC SL800, ODC320, FIXED WINDOWS, GLASS BALUSTRADES
Location:
KINGSTON-UPON-THAMES
Glazing Highlights:
Sliding doors and fixed panels combined to create a facade of glass across the entire back of the house for continous views.
ODC designed and installed all the rear windows in our contemporary new house. Lou was determined to find a solution to a very technically difficult installation as we wanted glazing across the entire back of the house and wrapping around the side. They were very helpful and the guys installing the windows were friendly and worked efficiently and to a high standard.