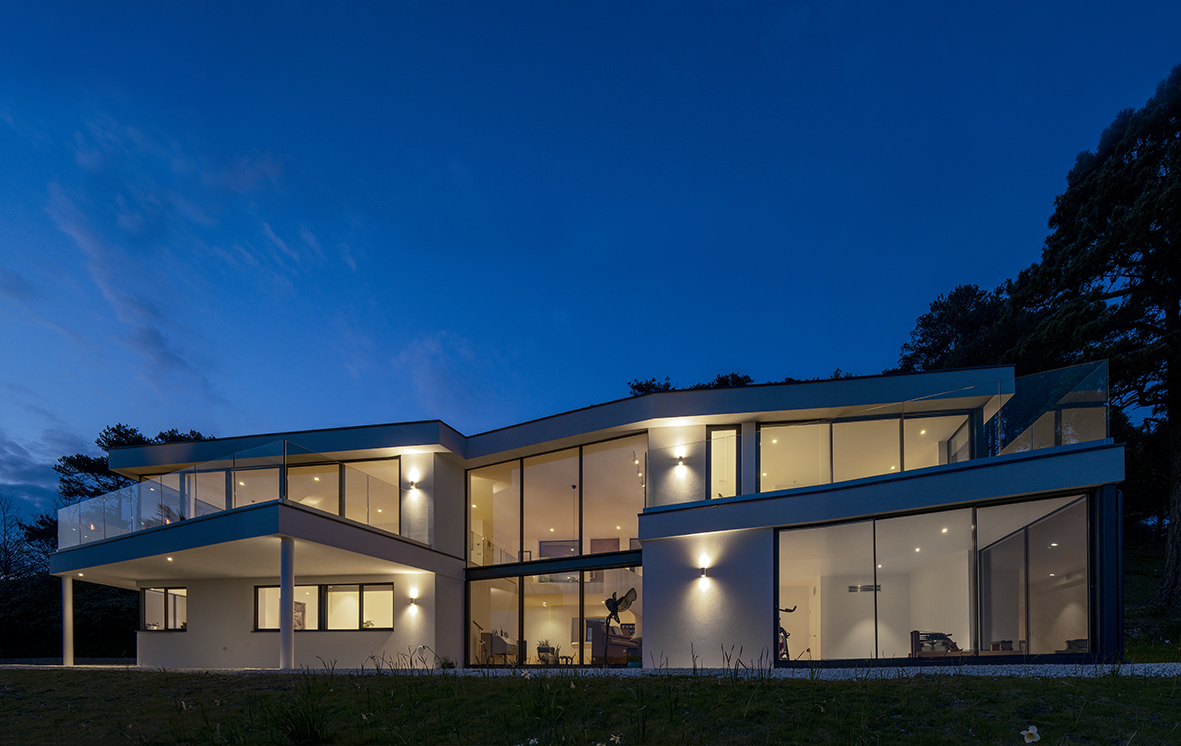 Minimal frames for perfect upside down living
"Like living in the sky amongst the birds"
A light-filled new home on Dorset's Jurassic Coast nestles in the hillside surrounded by maritime pines and sub-tropical palms. Its reverse level open plan layout is complemented by floor to ceiling glazing to capture the mesmerising views across the Dorset hills to the sea. Clients describe it as 'living in the open air', and enjoy panoramic sunsets from their dining room table, whatever the weather or time of year.
The master bedroom, the pool room and the music room each have three panel slimline sliding doors systems which open fully both ways. The living-dining area has a wide double panel door onto the balcony and a glass to glass fixed glazed corner for uninterrupted, wraparound views.
The first floor entrance of this lovely home is framed by large picture windows ensuring through light and views from the moment you arrive. A curving staircase leads down to the ground floor and the music room. Double height curtain walling creates a glorious atrium which celebrates this home's relationship with the landscape beyond and provides a stunning backdrop to any performance.
The ODC SL320 doors and windows were chosen for their narrow sight lines and high specification suitable for exposed coastal areas. And, as this contemporary white flat-roofed house echoes modern Bauhaus designs of the early twentieth century, frames inside and out are finished in black.
Installation was not without its challenges but, as usual, our team was not fazed by this property's winding narrow road access, its steep hillside site offering little room to manoeuvre, and even storm force high winds on the day of delivery.
Project Type:
NEW BUILD
Systems:
SLIDING DOOR SYSTEMS, ODC SL320, FIXED WINDOWS, TILT & TURN WINDOWS, EXTERNAL DOORS
Location:
Dorset
Glazing Highlights:
Stunning vistas captured by – Slim profile sliding systems – Double height curtain wall – Glass corner fixed windows – Picture windows