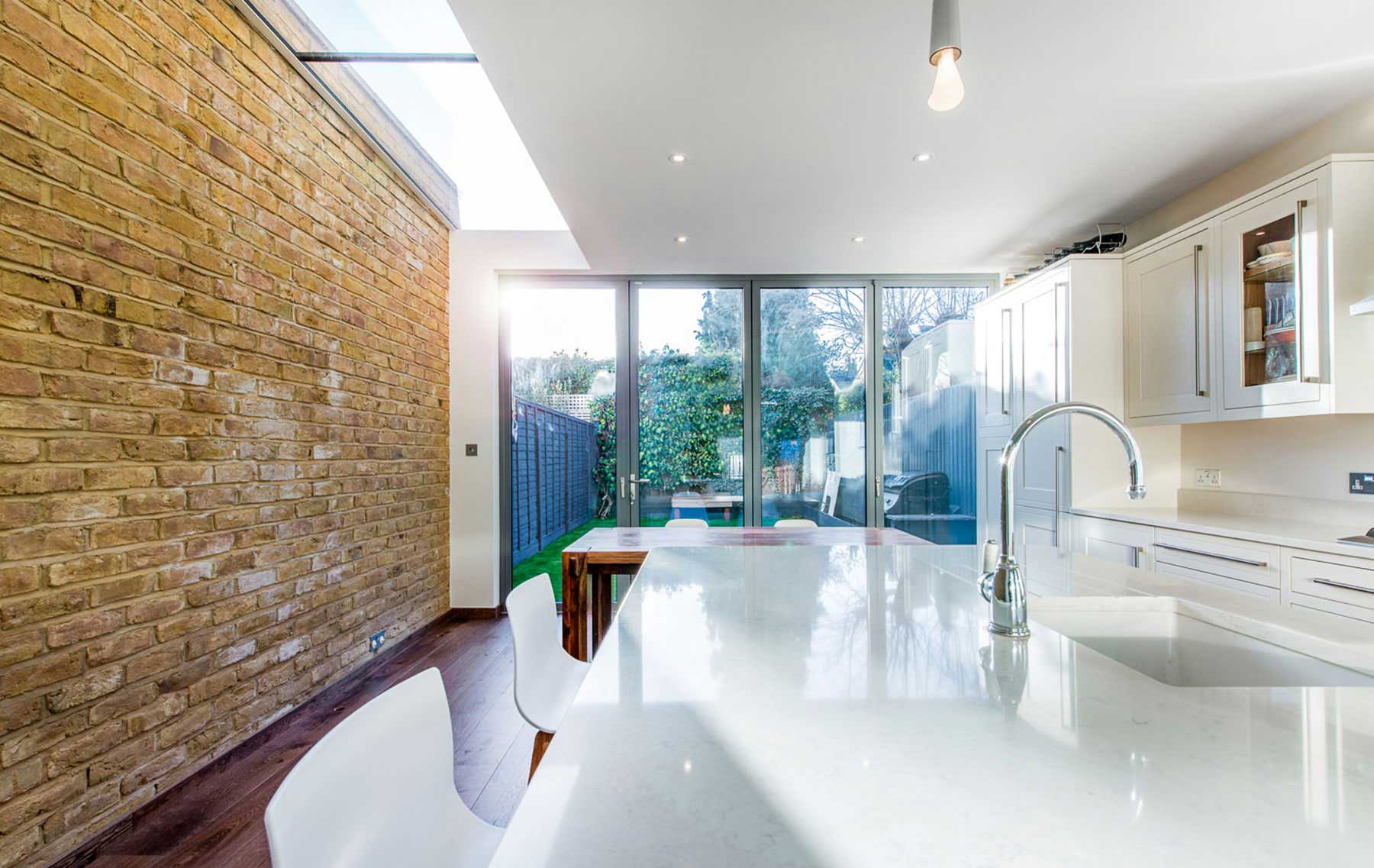 Glass extensions for terraced homes: FAQs
17 February 2021
All Items
SIDE return Glass EXTENSIONS: EVERYTHING YOU NEED TO KNOW
Adding a side return extension is one of the best ways of increasing and improving the quality of family space in terraced and semi-detached houses. Here are answers to common FAQs to help you take the next step in transforming your home.
WHAT is a side return extension?
A side return extension is typically carried out in the kitchen area at the back of the house. The side return – the pathway that runs alongside the ground floor of your home – makes the perfect space on which to build the extension. Hence the name side return extensions.
Finish a side extension with glass roof panels and glass walling, sliding or bifold doors and you'll not only enjoy a bigger kitchen, but a brighter, lighter open plan living space.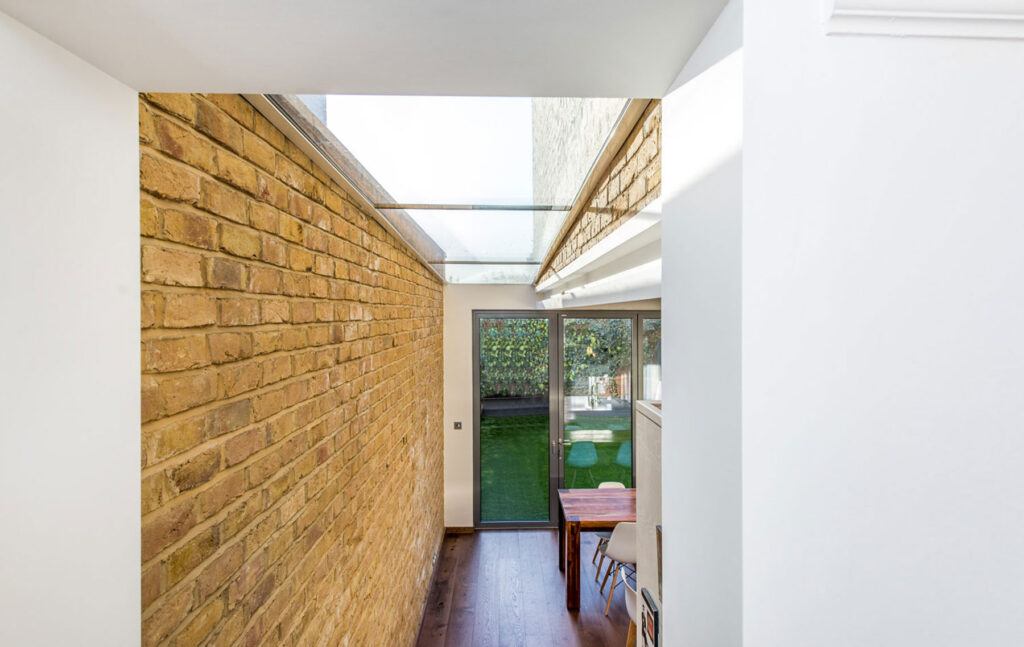 WHat type of glass structure do i need?
Our recommendation is to go for an all-glass insulated or thermally broken aluminium frame extension. In the industry, these are often called Wintergardens. They are robust, high-performance structures with slim sightlines.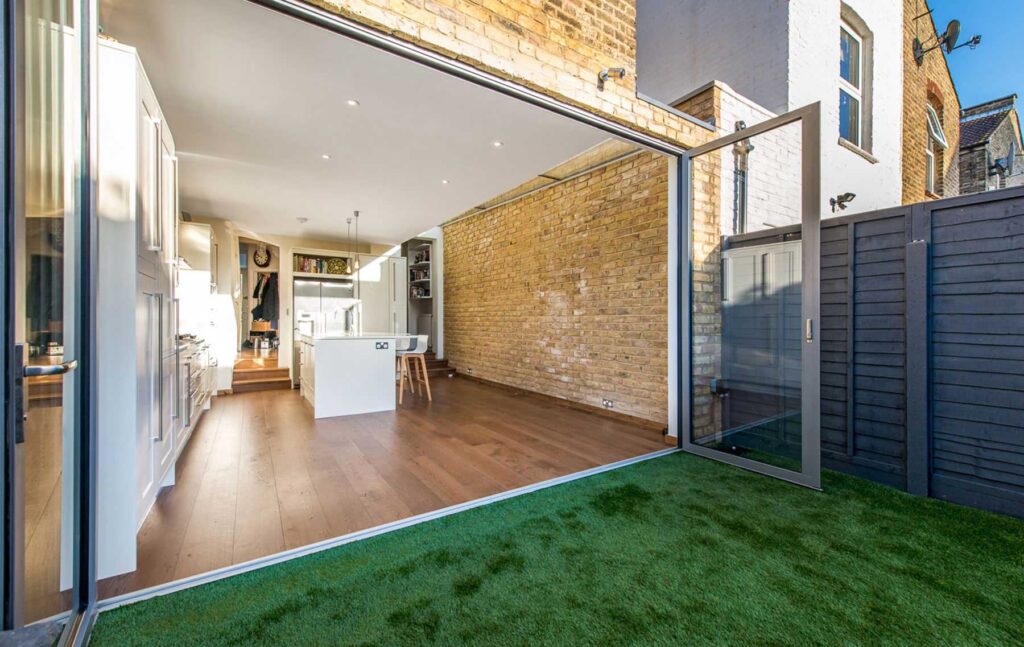 An opening roof light is a great option for the roof panels, too. There are a number of models available that'll automatically open and close according to the temperature, so you can ensure you'll always have a perfectly-ventilated space.
Consider advanced glazing options such as solar control – this reduces the amount of UV rays entering your extended living space, adding both comfort and peace of mind about potential fade damage to your furnishings.
Are FOLDING or SLIDING DOORS best for a kitchen extension?
The choice between sliding doors and folding doors is often a matter of how large the opening to the outside space is.
Sliding doors open by sliding one or more of the panes of glass behind another. If the opening is very wide, sliding doors tend to work better. With more room, having a fixed panel makes less of a difference.
Bifold doors open in a concertina motion in which the panels fold together. Bifold doors can run on one track, whereas the sliding doors will always have at least two. This won't bother everyone, but it does affect the aesthetic and final look. Bifold doors work very well for smaller spaces, as they allow for nearly the whole set of panes to be opened up in the summer months.
Managing Director of ODC Door & Glass Systems Tim Hedges explains:
"As a rule, we find that where the opening to the outside space is not particularly large, our customers tend to choose bifold, or folding doors, as this means that they benefit from being able to have the whole space open to the garden. Where the opening is larger, we are seeing more people opt for sliding doors as, for them, it matters less than one-third, or perhaps even half the space, will still be a glass panel.
Sliding doors will have a much less visible profile when closed, which some customers think adds more 'wow factor'. For example, we have just finished an installation of sliding doors where our client's house has a stunning view onto Poole Harbour. The choice of sliding doors in this case was absolutely the right one. In terms of visuals, both options look great, but many customers still prefer the minimal look of well-designed pair of sliding doors."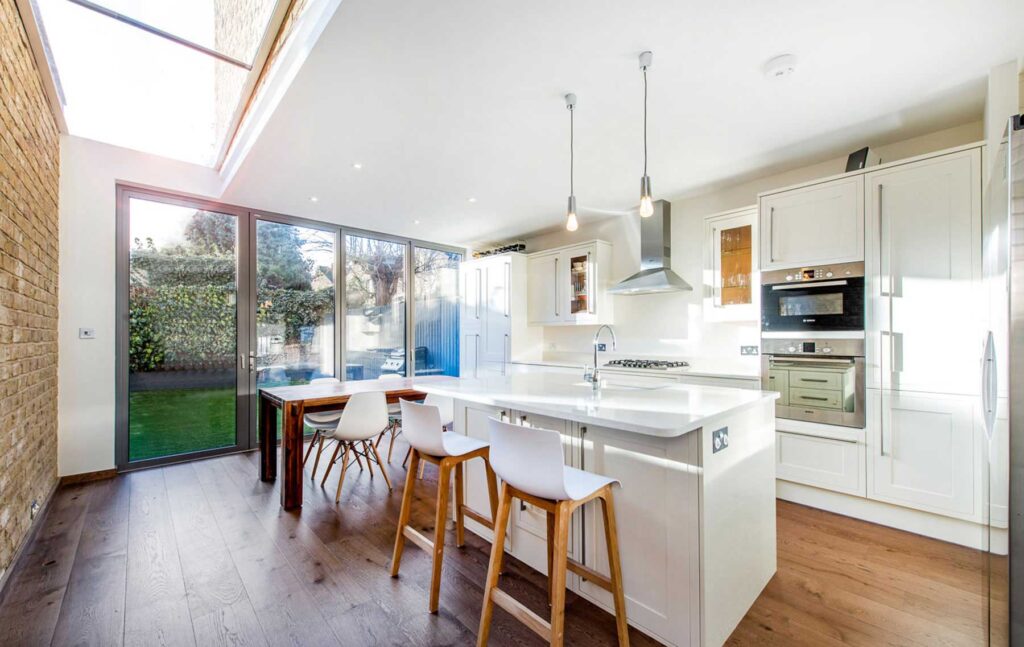 Does a glass ground floor extension require much structural work?
Typically major works needed for this kind of extension include:
Build a new wall on the boundary between your land and your neighbour's, on the kitchen side. This will require consultation with the owner of your
neighbouring property. The wall might have to be installed solely on your side.
Add a new roof to the extension area. Many people go with a fully glazed roof or a skylight in order to create a brighter kitchen.
Knock through the sidewall of the current rear room.
Install a new floor to integrate the existing and new extended area.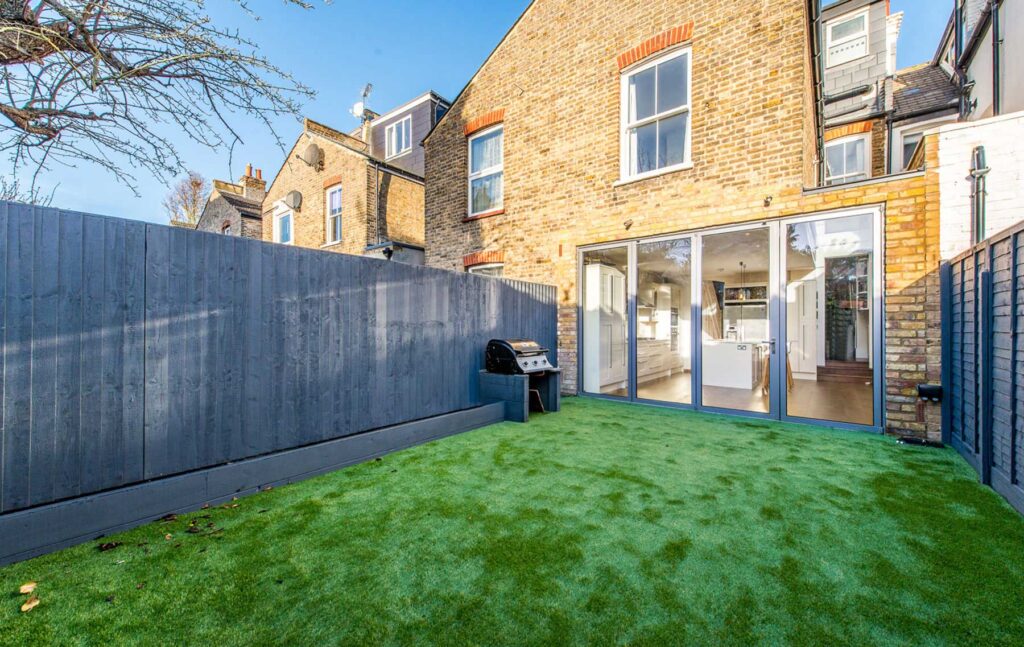 WILL I NEED PLANNING PERMISSION FOR A GLASS SIDE RETURN EXTENSION?
Council rules for this kind of project actually changed back in 2008, so from 2017 planning permission is not required. This applies as long as the extension is only on the ground floor and doesn't go any higher than four metres.
It also can't be any wider than half the width of your house's size before the build starts. It's worth noting that even though it's fairly likely you won't need planning permission, there will be building regulations you'll need to comply with.
It's important to consult with your project manager and contractor on these issues.
HOW LONG WILL it take to install a Glass EXTENSION?
For a fairly standard project, it'll tend to take somewhere between eight and ten weeks for the structural work. Plus, of course, the time for finishing and decorating the new interior.
Our top tip for a successful glass extension
If you're embarking on a home extension project, Tim advises,"It is key to plan the glazing elements of your project early. High-quality glazing is a considerable investment and you have to get it right."
Customer Projects
Looking for inspiration? Explore glass extensions designed for previous customers on our Projects Page, including a delightful glass extension for a London terraced house and a glass side return extension to connect a ground floor living space to the garden.
Why not work with a professional experienced team who know what it takes to achieve great results? Read more about the ODC team here and if you'd like any guidance on glazing design for your project, please give us a call on 03300 586 792 or complete our contact form today. We'll be delighted to help.