Aluminium Sliding Doors: advice from the experts
13 April 2022
All Items
How to find the best sliding doors for your project
If you love the idea of large uninterrupted expanses of floor to ceiling glazing for your home, then sliding doors could be exactly what you're looking for. Our complete guide to sliding doors aims to provide you with all the information you need to find the right system for your renovation project, extension or new home.
1. Different types of sliding glass doors
Sliding doors  are extremely versatile in design and are bespoke to your individual home. Perhaps you're looking for high performance sliding doors designed for a coastal property or hillside home? Do you want a wall of glass to open up your living space or are you looking for sliding doors with slim sight lines to maximise light into a bedroom? Are elegant design combined with superb energy efficiency and insulation your priorities? There's a sliding system to bring light and views to your extension, renovation or new build home.
2. What to look for when choosing a glass sliding door
We strongly recommend visiting a showroom to see sliding doors in action  – expect technical advice, systems to try out and all your options explained to help your decision-making. Find a system that looks and feels right for your home. Choose design features to suit the way you use your space.
Your DESIGN options eXPLAINED
Sightlines and frames: The sightline is the amount of frame visible once sliding doors are installed. Minimal sightlines maximise the amount of light entering your room, hence the label 'frameless'. For example, only 34mm is visible in our large ODC Cero sliding doors and 22mm in our ODC SL320 range. Different systems have different sight lines, so do ask for detailed section drawings showing the sight lines and if at all possible, look at an installed example.
Panel sizes and limits: Sliding doors can be manufactured in extraordinary sizes with glass panels up six metres high! A sliding system with multiple sliding panels can easily span 10 metres which creates exciting possibilities for sensational glass walls and light-filled interiors. We liaise with architects, developers and builders to produce glazing solutions which might otherwise seem impossible!
Sliding door opening configurations: Do you want panels to slide to the left and / or right, or split from the middle? What works for your home and lifestyle is what matters.
Frame colour options: Aluminium sliding doors are beautifully finished with a very robust powder-coating paint. Black, White and Anthracite are the most popular and cost-effective colours, but any RAL colour can be specified. It means you can match any existing windows and doors or specify colour throughout for a new build. Sliding doors can also be supplied dual-coloured (a different colour internally and externally) so you have the choice to bring your external colour indoors or match internal schemes.
Thresholds: Looking for patio doors onto an outside dining area? Low threshold designs are an important optional feature for garden patio sliding doors and glass doors for open plan living areas – anywhere where busy families enjoy inside/outside living.
PEFORMANCE features to consider
Double or triple glazing: If energy saving, noise reduction and thermal insulation are priorities, then ask about the suitability of triple glazing for your doors. In most locations, double glazed aluminium sliding doors will be more than sufficient. Be aware that triple glazed doors slightly reduce the amount of light transmitted into the room, but this might be a plus for south facing rooms that get full sun.
Glass standards: The huge panes of glass in sliding doors are specifically made for each order and the glass quality is evaluated at all stages of the process to ensure the glass is fit for purpose. There's an industry-regulated assessment procedure for the quality of glass used in every panel of any sliding door system to make sure it meets the highest technical standards.
Toughened safety glass and other glazing choices: All sliding doors are glazed with toughened Low E safety glass, but you can also get different glazing options for sliding doors in specific locations eg anti-fall glazing in high traffic areas, sound insulating glazing for city homes, solar control to regulate light levels and even self-cleaning glazing – particularly useful for front-line coastal locations experiencing regular sea spray.
Tracking: Sliding doors run on tracks – expect two tracks for a single moving sash, with the second track covered as one glass door is fixed and a wider three track configuration for two to six sashes. Tracking technology is worth your attention. Noiseless running, integrated steel or toughened nylon runners and mechanisms with guards to protect against invasive grit and dirt are all features to look for in high quality tracking for sliding doors.
Inline or lift and slide configurations. Inline sliding doors are doors that set within the threshold and glide smoothly open along the track. Other sliding door designs have a lift and slide opening mechanism. The sliding door is lifted slightly with the handle operation to open or close. The lift mechanism reduces friction and makes the operation smooth and effortless. In the closed position, the door is lowered onto the track, compressing gaskets on the track. This provides additional weather resistance and makes this design a good option for exposed locations. Either way, the door's operation should be easy and manageable despite its size. It's one very good reason to get into the showroom and get hands on!
Levers and handles: Handles should be slim and discrete – you want nothing to interfere with the sleek profiles of your sliding doors. Large format sliding doors are designed with unobtrusive continuous handles running the entire panel height so that wherever you take hold for opening or closing you have an instant easy grip.
Security and locks: Aluminium sliding doors offer excellent security. Expect multi-point locking mechanism as standard with optional lock monitoring and glass breakage detectors with integrated alarm system, plus bolt sensors to indicate correct locking –  be reassured, sliding doors locks are robust and sophisticated.
3. How to find the best performing sliding glass doors
There are three essential technical elements of sliding doors to check out before purchase:
Weather Performance: Sliding doors need superb weather resistance built into their design. ODC sliding systems are tested rigorously by independent bodies – the doors we make are put into testing rigs and have water and air jetted at them at high pressure. Standards of water tightness, air permeability (draughts) and wind resistance (how they cope with wind load) define their performance in poor weather conditions and are set out by the BS 6375 series of standards. Sliding doors are then given a 'class' to indicate how they performed in each test
Energy Efficiency: Thermal performance is the sliding door system's ability to maintain heat within the building and prevent heat loss, cold spots and draughts. Excellent glass U-values and special coatings mean you won't feel a drop in temperature as you walk past your patio doors in winter. Similarly, thermally efficient glass prevents too much heat gain from a large south-facing window in summer. Insulation within frames creates thermal breaks which stop outside temperatures being transferred to the inside via the frame.
Quality Assurance & Guarantee
Architectural glass suppliers who design, manufacture and install their sliding doors can offer a complete guarantee and quality assurance as all steps of the process, including after sales care, are their responsibility and under their control. An alternative option is to buy an imported sliding door system from a supply-only operation with sub-contractor fitters – in our opinion, this gives the customer less peace of mind.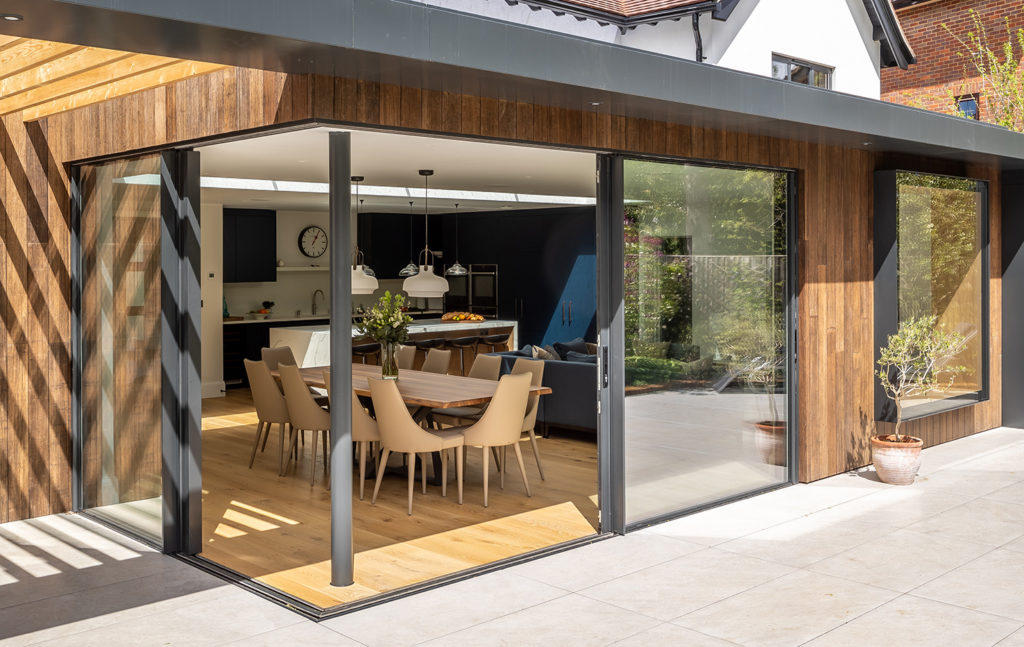 4. Where sliding doors work best
Bespoke sliding patio door systems transform all kinds of homes, creating a seamless transition between inside and outside spaces. They let the light stream in with floor-to-ceiling panes of glass. The latest high performance sliding systems are an architect's dream; it's now possible to incorporate movable glass panels up to four metres wide and six metres high (15m2 or 1000kg maximum weight) into a glazing design to link your living space and garden.
Extensions for terraced homes
Looking for more space, light and seamless access to your outside? A set of sliding doors is the ideal glazing for a home extension.
A Hampstead townhouse with a small courtyard garden is transformed by a large L-shaped glass extension, sliding doors, and rooflights which houses a contemporary kitchen opening onto the patio garden. Many semi-detached and terraced homes have a path or storage area that runs alongside the ground floor. They make the perfect space on which to build a glass extension. Glazed with roof panels, glass walling and sliding doors a side return extension delivers a bigger kitchen and brighter, lighter open plan living space.
Open plan kitchen living areas
If you are in the exciting position of designing your own home, consider how minimal frame sliding doors will maximise light for its interior. A fixed window between the two sliding systems will create a continuous glass wall the width of the entire house, from living room to dining and kitchen areas.
Roof terraces
Going up into your roof is sometimes the only way to maximise your living space. Loft conversions can include a fully glazed non-load bearing sliding system. Combined with a terrace, walk-on glass rooflights and glass balustrading, sliding doors can deliver a fabulous high-rise view on the outside world.
Dormer windows and balconies for loft conversions
Smaller, lighter sliding door systems are perfect for high level installations like a bedroom dormer window and can be combined with a frameless Juliet balcony. Sliding doors are not just an option for ground floor living spaces.
Lower ground floor and basements
Gone are gloomy dark ground floors – sliding doors open up and transform previously underused spaces in family homes. Sliding doors can offer a bold glazing solution. In this project, the entire back wall of the house at  ground level has been replaced with a wall to wall, floor to ceiling, slim framed Cero sliding system.
Gyms, garden rooms and pools
Sliding doors for home gyms and garden studios make these spaces a delight to use. Treated with solar control glass and opening with no intrusion into the room, a sliding door's moving panels allow you to control breeze and temperature with ease.
Garage conversions
Thinking about maximising the existing space in your home? A garage conversion has the potential to be an additional living area, home studio, gym or office. Sliding patio doors, sometimes combined with additional fixed glass panels, create fabulous glass walls. So if your garage looks out over a great slice of the garden, we suggest you look at a sliding system such as ODC Cero.
5. Why choose aluminium sliding doors?
Aluminium is the optimum material for sliding door systems. Here's why:
Allows for bespoke designs: Aluminium's versatility allows us to construct customised contemporary and classic frame shapes and profiles, equally suitable for a single window, a large 'glazed wall' or glass sliding doors.
Durability: This incredibly durable and strong material means we are able to manufacture extremely large sliding doors and windows with minimal frames. And it's good to know that long term, recycling rates for aluminium building materials are 92-98%.
Low maintenance: Aluminium sliding door frames are highly weather-resistant, even in coastal areas exposed to more severe weather. They need just a wipe with a damp cloth to keep them looking as good as new.
Lightweight: With assisted opening mechanisms even the largest sliding doors are easy to operate and manoeuvre.
Safety: Large sheets of glass in sliding doors are not a safety hazard. They are tempered, laminated and toughened to make sure they don't shatter if anyone accidentally falls onto a pane. Anti-fall glass or fall protection glass for sliding doors has specifications set by European law EN 12600.
Security: Sliding doors offer excellent security. High quality systems should have PAS24 (either 2012 or 2016) to verify they been tested and approved to the very latest security standards. Doors that have passed the test have withstood attacks with pliers, sandbags and 50kg steel rams. There's an independent police Secured By Design accreditation on doors and locking systems available for additional peace of mind.
Go to our Knowledge Hub to find out more about glazing suitable for coastal homes and how to check for quality in aluminium doors and windows.
6. A Sliding Door Showcase
Explore some of our most memorable sliding door projects:
7. sliding doors for a new home: A Customer journey
A couple in Dorset ordered four sets of sliding doors for their beautiful reverse living home in the hills. Here they reflect on the process and outcome for their home.
"ODC has just brought in windows with narrow sight lines which was absolutely perfect – that's how our relationship started. What we loved was the construction quality and the way they flow beautifully. We also love the fact that they can open either way. And there's one enormous pane of glass looking west which must be one of my favourite views."
8. HOW TO CREATE GLASS EXTENSION WITH A FRAMELESS GLASS DOORS
Creating a glazed link structure or freestanding glass box is an exciting architectural proposition. Sliding doors, when combined with a glass roof structure and fixed glass panels, create innovative spaces filled with light. In the trade they're known as wintergardens.
9. Why UK manufactured sliding glass panels and doors?
Sliding doors supplied by ODC are bespoke and made to order using high quality components in stock in the manufacturing facility. Many years of on-site design development means the team can problem-solve and create technical and aesthetic solutions for your project.
A UK manufacturing base for sliding doors in Poole, Dorset gives our customers real peace of mind.  Design, glass quality, finishes, manufacturing process, lead times and a planned production schedule are all under our control. Delivery and installation are undertaken by the experienced ODC team, and not by sub-contractors.
10. External glass sliding door installation – what's involved
Surveys: Our technical surveyors will make a site visit to assess existing support lintels and floor levels, especially important with complex glazing designs, glass roofs and glazed corner structures.
Specialist equipment: We use glazing robots or automated glass vacuum lifters fitted with suction pads to manoeuvre huge sheets of glass up to 1000 kg in weight
Access: Sometimes delivery is challenging. That's where cranes and spider or mini cranes come into play. Generally, the only thing that thwarts us is high wind, but that's only temporary. We liaise with your builder to ensure everything is as smooth as possible on the day.
Expert teams: Our installation teams are not fazed by the trickiest locations and they're one of the reasons why our customers recommend us.
Read more about ODC Delivery and Installation
11. sliding door maintenance – tips before you buy
How to make sure you get yourself a trouble-ree sliding system:
– Tracks must be kept free of dirt and debris. Look for track design which features a guard to prevent ingress.
– Rollers can sometimes become worn and need replacing. A well-designed sliding door design with high quality components will ensure that this is an easy and accessible job.
– Large panes of glass are best given a coating which prevents sea salt or traffic pollutants from sticking fast – it makes routine cleaning quicker and easier.
For more information, see our Sliding Door FAQs
12. Calculating the cost of a sliding door system – understanding your quotation
Bespoke sliding door designs are not standard, off the shelf products. Each system has specified frames, number of panels (fixed or moving), pane sizes and number of running tracks to suit its location – and all are factors in the overall cost.
A quotation will also include any extras such as self-cleaning coatings, integrated alarms, sound insulation as well as compatible blinds and awnings. It will also take into account installation costs.
13. Planning requirements for sliding doors
Permitted development allows changes to doors and windows, including the installation of sliding doors. It's important to have a conversation with your builder about obtaining Building Regulations approval and check if there any local authority restrictions on your permitted development.
Flats, apartments, maisonettes and, of course, listed buildings, all need planning permission for sliding doors. We have years of experience working with past clients on these types of projects, and while we can't arrange for your planning permission, we can offer advice and solutions to help with the success of your application.
14. Where to see sliding doors in action
Our showrooms are the best place to explore the look and feel of the ODC sliding door range. Take your time to browse the different designs, looking at colour charts and test the various opening configurations of our sliding door systems. It's all part of getting the perfect glazing for your home.
15. Bifold doors, French doors and Crittall industrial look doors – the alternatives
Wood and aluminium composite bifold doors feature a wood frame with an aluminium exterior. The high quality aluminium shell offers excellent weather protection while the visible interior has the warm character of the wood. A slim sightline and impressive U-values add to the universal appeal of this door.
Wood bifold doors are thermally insulated timber external glass doors. They have an aluminium core – a multifunction insulating thermal break – covered with solid wood sections inside and out.
Aluminium double French doors or external doors are designed as rear or side doors for homes where aesthetics and security are essential throughout. Like sliding doors, French doors can be fully customised for seamless integration into a glass curtain wall or glass structure.
Crittall doors and black framed glass doors create the vibe of industrial lofts, characterful glazing for period homes and provide strong, individual design for new architecture. ODC Metro black frames and glazing bars customise sliding glass doors, transforming large areas of glass into smaller units.
16. ODC SLIDING DOORS – THE TECHNICAL BITS
You can view and download technical datasheets, brochures, warranties and certifications.
Our extensive gallery of past projects is an online resource for you. See how our sliding systems, bifolding doors and windows bring light and individuality to new builds, period refurbishments and extensions.
Click here to see our datasheets and CAD details.
If you'd like any guidance on the best sliding door system for your project, please give us a call on 03300 586 792 or complete our contact form today. We're happy to help.