Aluminium Sliding Doors: Advice from the Experts- Part 1
7 July 2022
All Items
HOW TO FIND THE BEST SLIDING DOORS FOR YOUR PROJECT
Welcome to our new Knowledge Hub series specifically designed to provide you with all the information you need to find the right sliding doors for your renovation project, extension or new home. This week we will be covering:
Different types of sliding doors
What to look for when choosing a frameless glass sliding door
Best performing sliding glass doors
1. Different types of sliding glass doors
Sliding doors are extremely versatile in design and are bespoke to your individual home. Perhaps you're looking for high performance sliding doors designed for a coastal property or hillside home? Do you want a wall of glass to open up your living space or are you looking for sliding doors with slim sight lines to maximise light into a bedroom? Are elegant design combined with superb energy efficiency and insulation your priorities? There will be an optimal sliding system to bring light and views to your extension, renovation or new build home.
2. What to look for when choosing a glass sliding door
We strongly recommend visiting a showroom to see sliding doors in action  – expect technical advice, systems to try out and all your options explained to help your decision-making. Find a system that looks and feels right for your home. Choose design features to suit the way you use your space.
Your DESIGN options eXPLAINED
Sightlines and frames: The sightline is the amount of frame visible once sliding doors are installed. Minimal sightlines maximise the amount of light entering your room, hence the label 'frameless'. For example, only 34mm is visible in our large ODC Cero sliding doors and 22mm in our ODC SL320 range. Different systems have different sight lines, so do ask for detailed section drawings showing the sight lines and if at all possible, look at an installed example.
Panel sizes and limits: Sliding doors can be manufactured in extraordinary sizes with glass panels up six metres high! A sliding system with multiple sliding panels can easily span 10 metres which creates exciting possibilities for sensational glass walls and light-filled interiors. We liaise with architects, developers and builders to produce glazing solutions which might otherwise seem impossible!
Sliding door opening configurations: Do you want panels to slide to the left and / or right, or split from the middle? What works for your home and lifestyle is what matters.
Frame colour options: Aluminium sliding doors are beautifully finished with a very robust powder-coating paint. Black, White and Anthracite are the most popular and cost-effective colours, but any RAL colour can be specified. It means you can match any existing windows and doors or specify colour throughout for a new build. Sliding doors can also be supplied dual-coloured (a different colour internally and externally) so you have the choice to bring your external colour indoors or match internal schemes.
Thresholds: Looking for patio doors onto an outside dining area? Low threshold designs are an important optional feature for garden patio sliding doors and glass doors for open plan living areas – anywhere where busy families enjoy inside/outside living.
PEFORMANCE features to consider
Double or triple glazing: If energy saving, noise reduction and thermal insulation are priorities, then ask about the suitability of triple glazing for your doors. In most locations, double glazed aluminium sliding doors will be more than sufficient. Be aware that triple glazed doors slightly reduce the amount of light transmitted into the room, but this might be a plus for south facing rooms that get full sun.
Glass standards: The huge panes of glass in sliding doors are specifically made for each order and the glass quality is evaluated at all stages of the process to ensure the glass is fit for purpose. There's an industry-regulated assessment procedure for the quality of glass used in every panel of any sliding door system to make sure it meets the highest technical standards.
Toughened safety glass and other glazing choices: All sliding doors are glazed with toughened Low E safety glass, but you can also get different glazing options for sliding doors in specific locations eg anti-fall glazing in high traffic areas, sound insulating glazing for city homes, solar control to regulate light levels and even self-cleaning glazing – particularly useful for front-line coastal locations experiencing regular sea spray.
Tracking: Sliding doors run on tracks – expect two tracks for a single moving sash, with the second track covered as one glass door is fixed and a wider three track configuration for two to six sashes. Tracking technology is worth your attention. Noiseless running, integrated steel or toughened nylon runners and mechanisms with guards to protect against invasive grit and dirt are all features to look for in high quality tracking for sliding doors.
Inline or lift and slide configurations. Inline sliding doors are doors that set within the threshold and glide smoothly open along the track. Other sliding door designs have a lift and slide opening mechanism. The sliding door is lifted slightly with the handle operation to open or close. The lift mechanism reduces friction and makes the operation smooth and effortless. In the closed position, the door is lowered onto the track, compressing gaskets on the track. This provides additional weather resistance and makes this design a good option for exposed locations. Either way, the door's operation should be easy and manageable despite its size. It's one very good reason to get into the showroom and get hands on!
Levers and handles: Handles should be slim and discrete – you want nothing to interfere with the sleek profiles of your sliding doors. Large format sliding doors are designed with unobtrusive continuous handles running the entire panel height so that wherever you take hold for opening or closing you have an instant easy grip.
Security and locks: Aluminium sliding doors offer excellent security. Expect multi-point locking mechanism as standard with optional lock monitoring and glass breakage detectors with integrated alarm system, plus bolt sensors to indicate correct locking –  be reassured, sliding doors locks are robust and sophisticated.
3. How to find the best performing sliding glass doors
There are three essential technical elements of sliding doors to check out before purchase:
Weather Performance: Sliding doors need superb weather resistance built into their design. ODC sliding systems are tested rigorously by independent bodies – the doors we make are put into testing rigs and have water and air jetted at them at high pressure. Standards of water tightness, air permeability (draughts) and wind resistance (how they cope with wind load) define their performance in poor weather conditions and are set out by the BS 6375 series of standards. Sliding doors are then given a 'class' to indicate how they performed in each test
Energy Efficiency: Thermal performance is the sliding door system's ability to maintain heat within the building and prevent heat loss, cold spots and draughts. Excellent glass U-values and special coatings mean you won't feel a drop in temperature as you walk past your patio doors in winter. Similarly, thermally efficient glass prevents too much heat gain from a large south-facing window in summer. Insulation within frames creates thermal breaks which stop outside temperatures being transferred to the inside via the frame.
Quality Assurance & Guarantee
Architectural glass suppliers who design, manufacture and install their sliding doors can offer a complete guarantee and quality assurance as all steps of the process, including after sales care, are their responsibility and under their control. An alternative option is to buy an imported sliding door system from a supply-only operation with sub-contractor fitters – in our opinion, this gives the customer less peace of mind.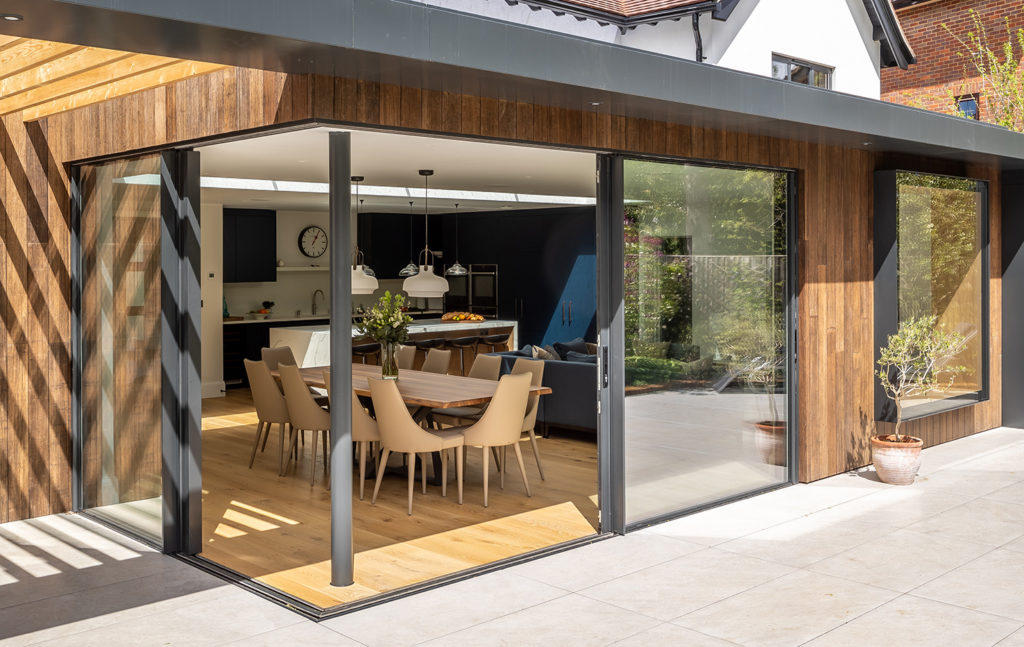 Be sure to check back next week for Aluminium Sliding Doors: Advice from the Experts – Part 2 where we will be covering where sliding doors work best in your home, as well as showcasing some incredible visual case studies.
Subscribe to our newsletter to receive updates automatically.