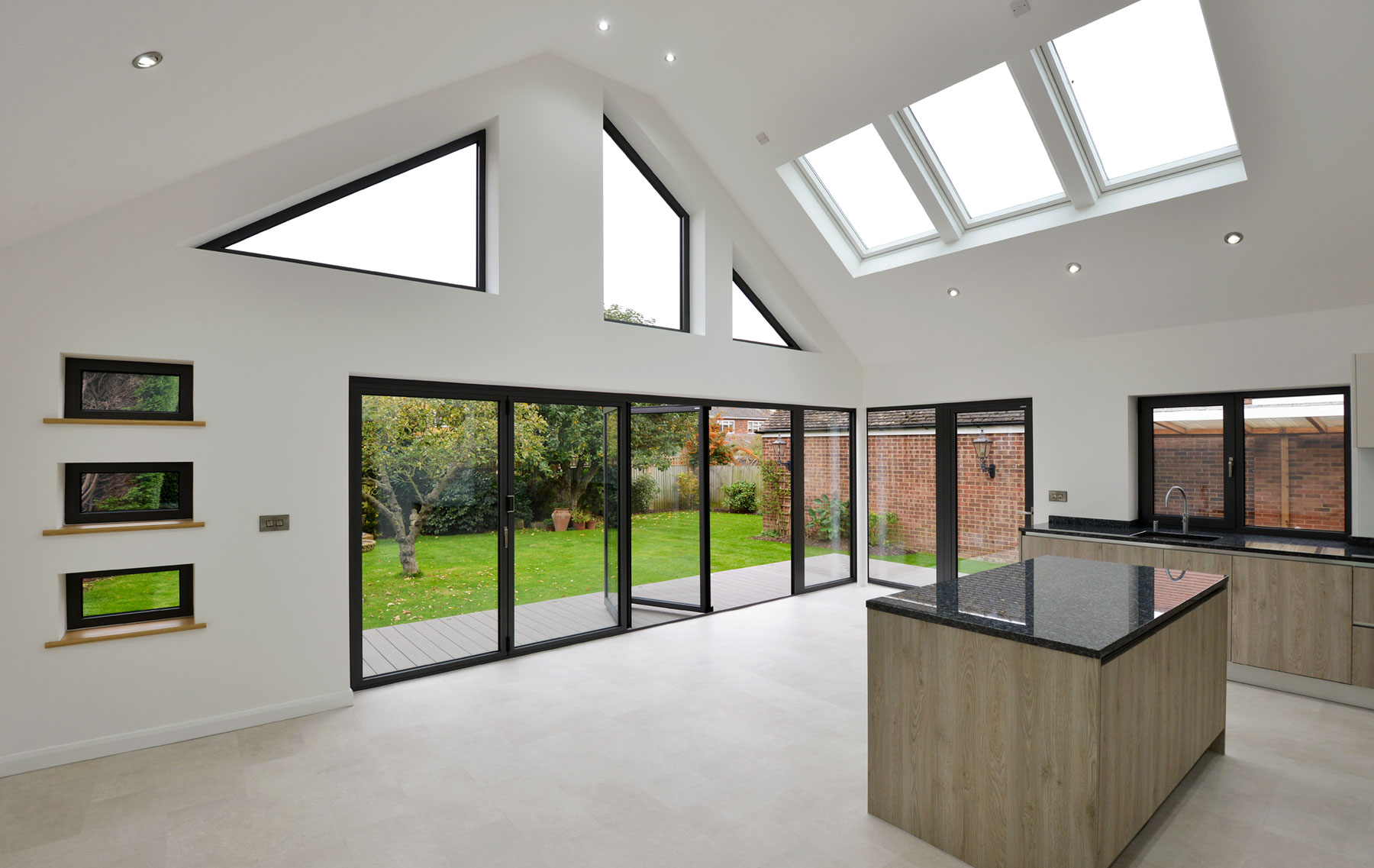 Your top bifold doors FAQs answered
25 February 2021
All Items
are bifold doors best for your project?
Bifolding glass patio doors are a very popular option for kitchen extensions and open plan living area renovations. Below we answer the questions our customers ask when they check them out in our showroom. 
WHAT'S THE DIFFERENCE BETWEEN A BIFOLD DOOR AND A FOLDING DOOR?
Essentially, they are the same whether you are referring to doors that open onto the garden/patio or internally. They can be made of two or more panels that concertina, folding back to one or both sides
CAN BIFOLD DOORS HAVE MORE THAN TWO SECTIONS?
Yes, a designer will be able to tell you the optimum number of panels for your space, according the to the door style you prefer.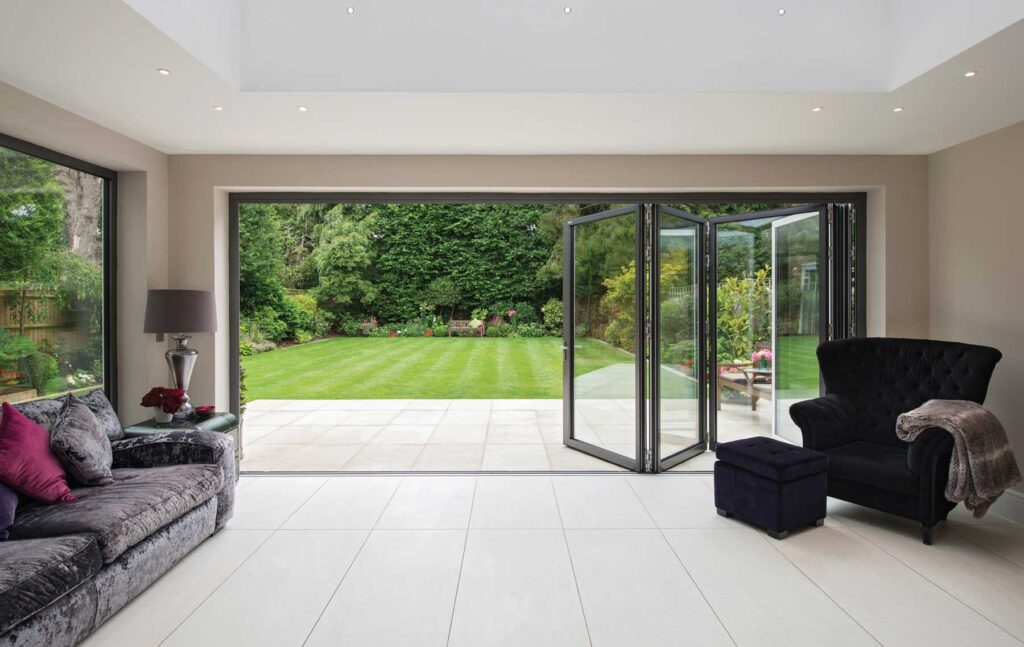 WHAT MATERIALS CAN BIFOLD DOORS BE MADE FROM?
ODC manufactures bifold or folding doors from aluminium which can be manufactured to any RAL colour and the frame styles vary to suit many house types. Aluminium provides a contemporary low maintenance solution with generally narrower sight lines than timber.
A dual frame option offers customers a high quality timber interior finish with aluminium on the external side of each panel.
All the timbers we use are from renewable sources or certified woods from sustainable forests. Using an eco-friendly water-based lacquer, we offer a wide range of surface finishes in classic and contemporary shades.
DOES THE WHOLE DOOR HAVE TO OPEN WHEN I WANT TO GO INTO THE GARDEN?
You can select a system with a single traffic door such as our ODC120 folding doors. This allows you to slip quickly and easily out into the garden while leaving the other doors locked in place.
CAN BIFOLD DOORS BE MADE TO ANY SIZE?
Bespoke folding and bifold doors and windows are made to measure to fit your space precisely. However there are maximum heights, widths and weights with any system.
CAN MY BIFOLD DOORS BE FITTED ON THE SAME LEVEL AS MY PATIO?
This will depend to some extent on floor and ground levels, but in theory it should be possible. We offer up to four threshold solutions for each folding door system and will advise on which is best for your situation. See below for more about weatherproof thresholds.
ARE BIFOLD DOORS WEATHERPROOF?
Each threshold option is a trade-off between weather performance and ease of passage. The high-performance option offers the best air, wind and water performance but has the highest threshold step. Our Double Weather Seal combines good weather resistance with a lower threshold. Further choices include: low threshold which can be set into the floor to meet building regulations; flat bottom which allows easy passage with no step at all (at the expense of weather-proofing).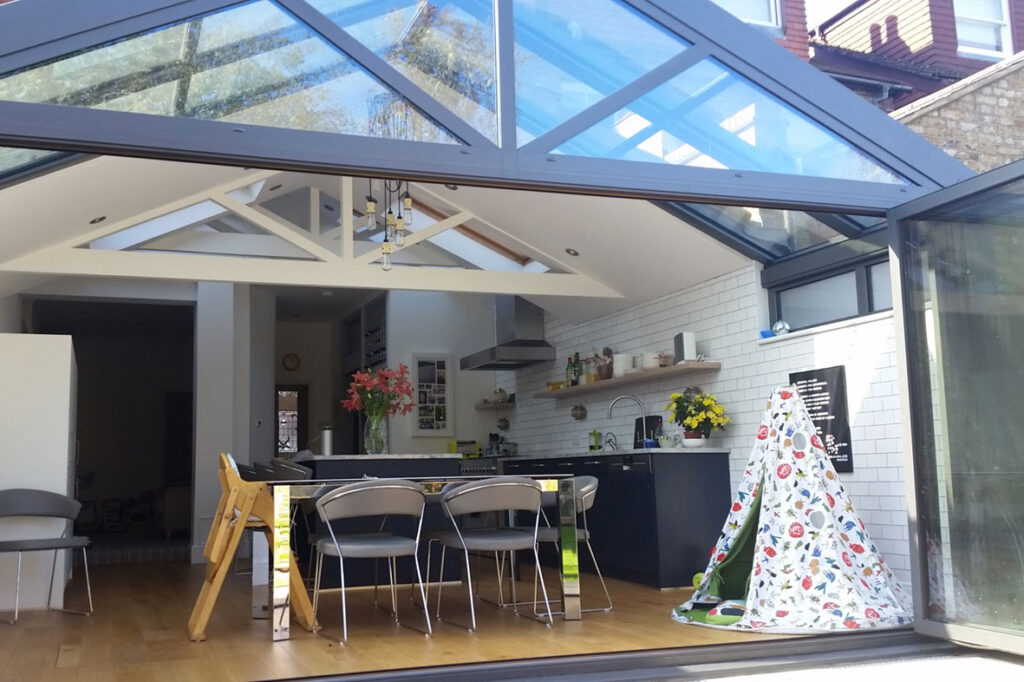 DO BIFOLD DOORS LAST WELL?
All our doors have 10-year warranties – however their typical life is much longer. Aluminium frames require minimum maintenance – just a wipe over with a damp cloth. Depending on the type of wood used for timber doors, their location and the direction they face, the finish may weather and need maintenance to keep the frames in optimum condition.
CAN THE DOORS OPEN OUTWARDS INTO THE GARDEN OR DO THEY HAVE TO OPEN INTO THE ROOM?
That's down to your personal preference or the space you have available inside and outside. We can specify either and will discuss the best option with you.
HOW HEAVY ARE BIFOLD DOORS TO OPEN AND CLOSE?
Patio doors should be easy to operate and not feel heavy or stiff to open. ODC systems are designed so that they can be opened with just one hand. You can see a demonstration of both sliding and folding doors on our video page.
HOW MANY PANELS CAN I HAVE IN MY FOLDING DOORS?
In practice, any more than six or seven panels opening in anyone direction becomes difficult to operate, although more are possible. Each system has different maximum widths and weights per panel and we can advise on your best option. If your opening is more than four to five metres wide, a sliding system may be a better alternative.
HOW MUCH SPACE DO BIFOLD DOORS TAKE UP WHEN OPENED?
This will depend on the size and number of the panels. For example, a five-panel opening across a span of five metres will open to a folded width of around 350mm.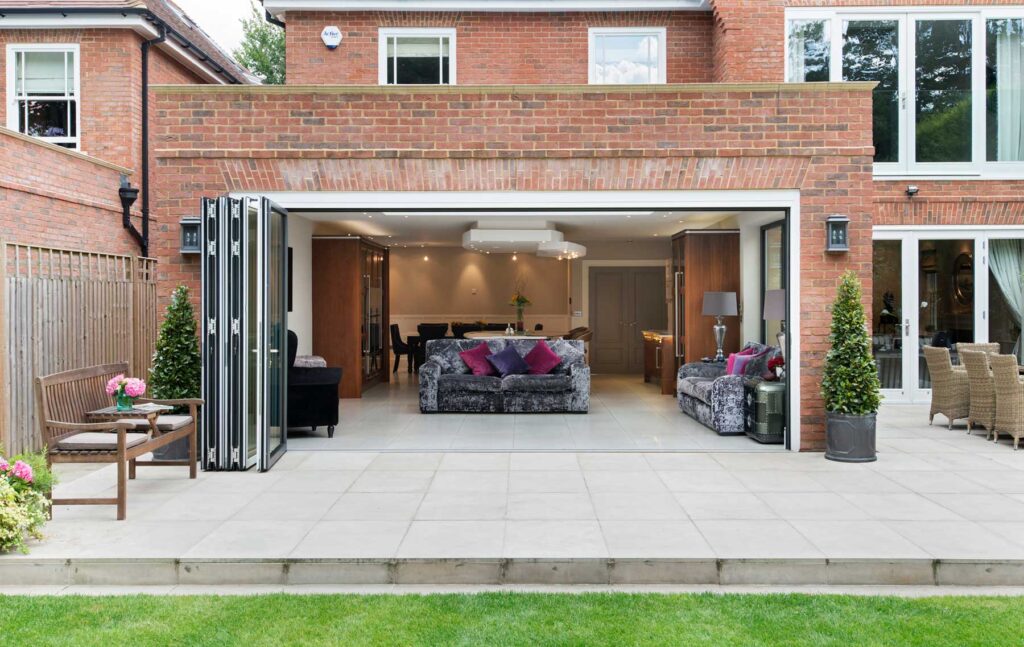 ARE BIFOLD DOORS ENERGY EFFICIENT?
Thermal efficiency is determined by the heat loss through the frame and the glass. Opt for folding frames and glass with low U values such as those from ODC to keep the heat in, but remember that you may also want to reduce the effect of the sun heating up a south-facing room in the summer. Our advisors will be able to inform you of the best glass type for your home's aspect.
If you'd like any guidance on bifold and folding doors for your project, please give us a call on 03300 586 792 or complete our contact form today. We are happy to help.